Rough guide Switzerland
From ChangingRoomWiki
{{#jskitrating:view=split}}
Rough Guides: Albania | Andorra | Armenia | Austria | Azerbaijan | Belarus | Belgium | Bosnia | Bulgaria | Croatia | Cyprus | Czech Republic | Denmark | Estonia | Finland | France | Georgia | Germany | Greece | Hungary | Iceland | Ireland | Italy | Kazakhstan | Kosovo | Latvia | Lithuania | Luxembourg | Macedonia | Malta | Moldova | Monaco | Montenegro | Netherlands | Norway | Poland | Portugal | Romania | Russia | Serbia | Slovakia | Slovenia | Spain | Sweden | Switzerland | Turkey | UK | Ukraine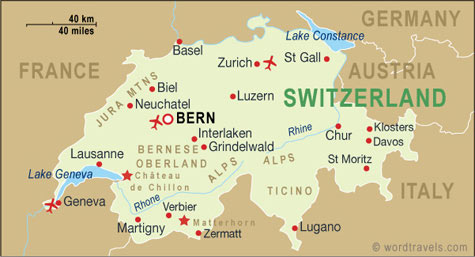 The Basics
Population: 7.3 million
Capital: Berne
Minimum Wage Rate: They do not have one
Language: German, French, Italian, Romansch
Other Languages: No
EU Member: No, but member of EFTA (European Free Trade Association)
Current Government politics and support for culture: See Cultural Policy for general objectives and principles of cultural policy
Working
Who needs a visa to work there?: Citizens of full European (EFTA, EEA) Member Countries are able to live and work in Switzerland but must apply for a Job seeking Permit that is issued by the Job Center or can be downloaded from The Job Center Web Site or a Work Permit from your potential employer. Non EU nationals wishing to live and work in Switzerland must apply for a work permit which must be applied for by the employer at the Swiss Embassy in the employees home country. A Youth Mobility Program is available to citizens of Canada. Nationals of certain countries can visit Switzerland for up to three months without a visa, these are listed at the website of the Federal Office For Migration In Switzerland. A work permit is needed for voluntary work in Switzerland. You can get more information through Federal Department of Justice and Police, Federal Department of Foreign Affairs.
Best places to look for / find culture jobs: Geneva International provides information about different sectors, companies, tourism, universities, exchanges, etc. It is worth to check.
Also try:
Best places to look for volunteering and internships: Through different NGOs based in Switzerland you can do voluntary work. Check at: Workcamp Switzerland, Komturei, Frilingue, Naturpark Thunersee, Feriengestaltung, Fontana Passung, Verein Aurora. NGOs in Switzerland provides all information about NGOs in Switzerland. Try also: Intercultural exchanges
Studying/Training & Mobility Grants/Bursaries
Recommended university/college culture management courses
first degree: Try at: University of Lausanne, Faculty of Social and Political Sciences, University of Basel, Faculty of Humanities,University of Bern, Faculty of Humanities, University of Fribourg, Faculty of Humanities, University of Neuchâtel, Faculty of Arts and Humanities, University of Luzern, Faculty of Humanities and Social Sciences.
postgraduate degree:
Recommended vocational and short-term culture management training:

National Grants or Bursaries For Mobility: You can get some grants for mobility through Erasmus, University of Applied Sciences Western Switzerland, Swiss Plant Science Web, Euraxees, Federal Department for Foreign Affairs, State Secretariat for Education and Research SER, Caleidoscop, University of Geneva.
Living
Coolest places: Switzerland has tourist vocation and many places are really beautiful. If you spend time with locals, they will get you to know the best places, especially those who are "unknown" or in the woods/country. Landscape is beautiful! Spring time and fall are good seasons to visit Switzerland because colors are magical! If you like the mountains and lakes, Switzerland will be a perfect destination. Cities are not really big, but every one of them is rich in history and culture. Switzerland has many museums, castles, parks and I really recommend its museums. If you like art of the 19th and 20th century, you will be delighted. Don't miss museums in Basel and Bern, but Genève as well. In Lausanne I recommend "musée de l'art brut" and in Bern "Zentrum Paul Klee". Zürich, Bern and Basel are perfect in summer. You can have a walk to explore the city and also swim in the river!!! In the Lausanne Region you can also have nice walks through the vineyards. The coolest places to visit: MONTREUX (Ned Club, Jazz Festival), NYON (there is a wonderful music festival every summer!!!), LAUSANNE, SION, SAINT MAURICE (it's a quiet place, there are interesting art works from the middle age in a church and there are nice spas in the surrounding!), NEUCHATEL, BERN, BASEL, LUZERN, GENEVA (Club Usine), LOCARNO, ZÜRICH.

Places to avoid:
Weather: Winter is pretty cold and there can be snowy days, of course, Switzerland is on the mountains! If someone suffers from allergy and asthma, the climate there is very good to recover and there are less allergy crisis. Springtime and fall are normally fresh and mostly sunny in the Lausanne region. Every valley has its own climate, some places are more likely to have rain, some other are more sunny. Summer can be really hot. During summertime it's great to live near the lakes because you can go bathing/sun tanning/swimming there!
Budget airlines?: Easyjet, Ryanair, Germanwings, Airberlin, Flybe, TransAvia and much more.
What to eat and drink: Actually every region has its specialties. There are wonderful chocolates and cakes all over Switzerland, but if you ask for a hot chocolate in a café you will get a cup of hot milk and a little bag of Nesquik or Caotina (instant cocoa). Swiss people are proud of their local recipes, products and biodiversity. Is supermarkets you can easily find lots and lots of LOCAL ORGANIC fruit and vegetable (an all the rest as well: organic milk, pasta, etc.). You can find some "strange" vegetables (blue potatoes, dark green and red beets and radish, rare white carrots, etc.) but they are appreciates and easily available. There are also many "ethnic" stores, owned by immigrants. "Melting pot food" is appreciated! And many specialties from the surrounding countries are appreciated and popular as well (asta, gratin dauphinois, German cakes, etc.). Many dishes are made mostly from cheese and potatoes, such as: raclette, fondue, rosti, alpenmakronen, papet vaudois. Switzerland has four distinct regions, each with its own language and culture, and each of those regions merges time-honoured local food traditions and the best of modern culinary art. As you travel through Switzerland you'll find Malakoff cheese fritters in Canton Vaud; and cornmeal specialities and freshly caught perch from Lake Constance in Canton St. Gallen. The Valais is famous for its raclette, melted mountain cheese served with steamed new potatoes and pickles; Graubünden for its Capuns, tender dumplings wrapped in Swiss chard leaves; Zürich for its Geschnetzeltes, creamy shredded veal; and Ticino for its luganighe sausages and fabulous risotto.

Cost of living examples:
A Beer: €3.2
A Cappuccino: €2.5
Renting a 2 bedrooms apartment in an average town: from €840 up to €1050
Personal experience/views
Switzerland is not big, so places are not far away and you can visit a town in one day. It's a very clean and quiet country and people are so proud of it! Services, facilities, events, transports are very well organized but everything is very expensive.
Useful Links
Federal Office of Cultural Affairs
Swiss Arts Council / Stiftung Pro Helvetia
Public portal service of swiss info and Pro Helvetia
Schweizerische Hochschule fuer Landwirtschaft
The Swiss National Youth Council
Suggested reads and books
Switzerland - Culture Smart!: the essential guide to customs & culture by Kendall Maycock, CH is for Chocolate: Individually Wrapped Tastes of Switzerland by Mary Ann Miller, Look What Came from Switzerland by Miles Harvey, Why Switzerland? by Jonathan Steinberg, Living Among the Swiss by Michael Wells Glueck, Asterix in Switzerland by Rene de Goscinny, Barry:The Bravest Saint Bernard (Step into Reading Books Series: A Step 4 Book) by Lynn Hall, For God and His People: Ulrich Zwingli and the Swiss Reformation by J. H. Merle D'Aubigne, Tales and Traditions of Switzerland by William Westall, The Xenophobe's Guide to the Swiss by Paul Bilton, Target Switzerland: Swiss Armed Neutrality in World War II by Stephen P. Halbrook, A contested nation by Oliver Zimmer, A Short History of Switzerland by E. Bonjour, H. S. Offler, Outline History of Switzerland by DIETER FAHRNI, GENERAL HENRI GUISAN: Commander-in-Chief of the Swiss Army in World War II by Willi Gautschi, Dunant's Dream — War, Switzerland and the History of the Red Cross by Caroline Moorehead.
Images
Comments