Rough guide Serbia
From ChangingRoomWiki
{{#jskitrating:view=split}}
Rough Guides: Albania | Andorra | Armenia | Austria | Azerbaijan | Belarus | Belgium | Bosnia | Bulgaria | Croatia | Cyprus | Czech Republic | Denmark | Estonia | Finland | France | Georgia | Germany | Greece | Hungary | Iceland | Ireland | Italy | Kazakhstan | Kosovo | Latvia | Lithuania | Luxembourg | Macedonia | Malta | Moldova | Monaco | Montenegro | Netherlands | Norway | Poland | Portugal | Romania | Russia | Serbia | Slovakia | Slovenia | Spain | Sweden | Switzerland | Turkey | UK | Ukraine
The Basics
Population: 7.5 millions
Capital: Belgrade
Minimum Wage Rate: €154 per month
Language: Serbian
Other Languages: Hungarian, Albanian, Bosnian, Croatian, Romanian
EU Member: No
Current Government politics and support for culture: See Cultural Policy for general objectives and principles of cultural policy
Working
Who needs a visa to work there?: Work permits are required for foreigners employed in Serbia and are issued with a validity of 3 to 12 months. An application for a work permit is submitted in person or by mail to the Labor market office in Belgrade. The average time for obtaining the work permit is two days. Work permit can be renewed without obstacles and the procedure is identical with the first application.Steps for obtaining a work permit are: getting a residence permit issued by the Ministry of Interior affairs, application by the company, application by the individual a work permit issued by the Labour Market office. Foreigner can sign the work contract without work permit (but with temporary residence permit), on the grounds of performing expert work, defined by existing agreements on business cooperation, long-term manufacturing cooperation, technology transfer and/or foreign investments. The labor contract may be concluded for a part-time work, for definite or indefinite period of time. A labor contract for a definite period of time may be signed for specific circumstances such as seasonal jobs, specific projects etc. Contract for definite period of time may last no longer than one year. The employee is entitled to social insurance and to all the rights stemming from the employment contract in proportion to the time spent at work. An employer may sign a contract with a person for temporarily and periodical work related to his line of business. A person with whom this contract has been made is entitled to pension, disability and health insurance. An employee can also conclude a special service contract to perform jobs outside the line of business of his employer and with the aim of independent execution of particular physical labor or intellectual work. More information at: Euraxess, Ministry of Foreign Affairs.
Best places to look for / find culture jobs: Most of the culture jobs can be found in Belgrade. Here is the link for Belgrade Culture Center where most of the info about culture in Belgrade can be found.
Also try:
Best places to look for volunteering and internships: SALTOpromotes cooperation between Youth in Action programme countries and the Western Balkans through dissemination of information, capacity building and assistance in finding partners. Through them you can come in contact with organizations Mladi u Akciji, Educational Center Krusevac, Hajde da, Civic initiatives, Infostud. Balkan Youth is improving the conditions, prospects, and quality of life for children and youth up to age 30 throughout the Balkan region.
Studying/Training & Mobility Grants/Bursaries
Recommended university/college culture management courses
postgraduate degree:
Association of Centres for Interdisciplinary and Multidisciplinary Studies and Research ACIMSI, The Faculty of Philology and Arts in Kragujevac, Faculty of Fine arts, Belgrade, Faculty of Applied Arts.
Recommended vocational and short-term culture management training:

National Grants or Bursaries For Mobility: Scholarships for Western Balkans is scholarship database for all Western Balkan students and researchers who would like to study in EU member states and EFTA countries and are looking for financial aid. Basileus Programme provides funding for academic mobility from the Western Balkans to the EU and vice-versa. Mladiinfo is a website where you can find all the information possible about MA, PhD scholarships, open calls, trainings, youth grants, etc..
Living
Coolest places: festivals EXIT and Guča, big cities Belgrade, Novi Sad, Niš, Djerdap Gorge, Fruška Gora, Uvac Canyon, Djavolja Varoš (Devil's town), Zlatibor, Kopaonik, hanging around and slowly sipping coffee on the main street and observing people passing by.
Places to avoid: Serbia is generally very safe country, although sites that were bombed during NATO intervention in 1999 should be avoided due to possible leftover bombs.
Weather: Continental weather - very cold winters and very hot summers
Budget airlines?: Unfortunately very few. But you can flight cheap with Windjet, Germanwings, FlyNikki. There are also few announcements for the new lines to be introduced in upcoming months.
What to eat and drink: You can not leave Serbia without trying ćevapi, pljeskavica, šopska salad, sarma, tavče gravče, burek. Try also home made rakija, šljivovica, dunja, viljamovka.
Cost of living examples:
Renting a 2 bedrooms apartment in an average town: €200-300, in smaller towns the prices would go down a bit.
Personal experience/views
Belgrade is not Serbia so you need to dig deeper to find real Serbia which means meeting local people, visiting some remote areas, attending festivals where you can try rakija and pleskavica. Listen to turbofolk music and make some moves on gypsy music and you are part of them. Just one step to the right and one to the left and you can dance kolo. Traveling with a public transport is also a nice and unforgettable experience. There is no war anymore so feel free to visit a diamond on the Balkan region with its pure and untouched soul!
Useful Links
Serbian Academy of Sciences and Arts
Theaters and Cinemas in Serbia
Monasteries and Churches in Serbia
Swiss Cultural Programme (SCP) in the Western Balkans
Suggested reads and books
Black Lamb and Grey Falcon by Rebecca West, An Impossible Country: A Journey Through the Last days of Yugoslavia by Brian Hall, With Their Backs to The World: Portraits of Serbia by Asne Seierstad, The Book of Revenge by Dragan Todorović, Guide to the Serbian Mentality by Momo Kapor, Migrations by Miloš Crnjanski (or Tsernianksi), A Tomb for Boris Davidovich by Danilo Kiš, The Serbs: History, Myth, and the Destruction of Yugoslavia by Tim Judah
Images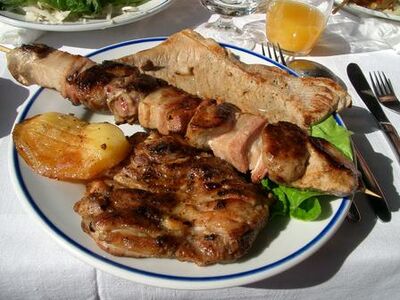 Comments