Rough guide Denmark
From ChangingRoomWiki
{{#jskitrating:view=split}}
Rough Guides: Albania | Andorra | Armenia | Austria | Azerbaijan | Belarus | Belgium | Bosnia | Bulgaria | Croatia | Cyprus | Czech Republic | Denmark | Estonia | Finland | France | Georgia | Germany | Greece | Hungary | Iceland | Ireland | Italy | Kazakhstan | Kosovo | Latvia | Lithuania | Luxembourg | Macedonia | Malta | Moldova | Monaco | Montenegro | Netherlands | Norway | Poland | Portugal | Romania | Russia | Serbia | Slovakia | Slovenia | Spain | Sweden | Switzerland | Turkey | UK | Ukraine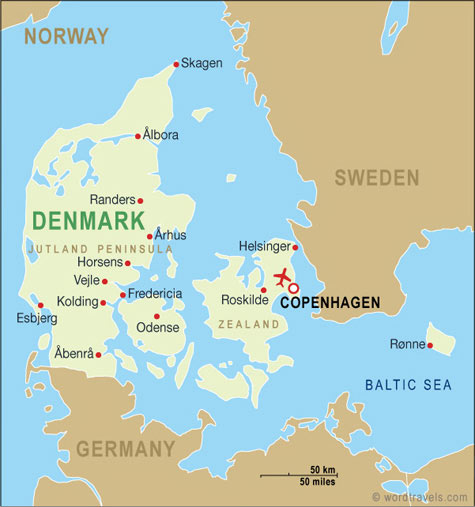 The Basics
Population: 5.5 million
Capital: Copenhagen
Minimum Wage Rate: They do not have one. Pay not less that €13 per hour
Language: Danish
Other Languages: English widely spoken
EU Member: Yes
Current Government politics and support for culture: See Cultural Policy for general objectives and principles of cultural policy
Working
Who needs a visa to work there?:
Many foreign nationals are free to live and work in Denmark. However, some are required to hold a residence and work permit. The specific requirements in connection with living and working in Denmark depend, first and foremost, on a person's nationality and qualifications.
If you are a Nordic citizen, you are free to reside, study and work in Denmark. If you are an EU/EEA citizen or Swiss citizen seeking residence in Denmark based on the EU rules on freedom of movement, you may be subject to special regulations.
More information on the Official portal for foreigners and integration
Best places to look for / find culture jobs:
Also try: https://www.workindenmark.dk/
Best places to look for volunteering and internships:
Studying/Training & Mobility Grants/Bursaries
Recommended university/college culture management courses
first degree:
postgraduate degree:
Recommended vocational and short-term culture management training:

National Grants or Bursaries For Mobility:
DIVA – Danish International Visiting Artists Exchange Programme http://www.danisharts.info/index.php?id=3429
International Performing Arts Exchanges (Grants for guest performances and network-building)
Living
Coolest places: Copenhagen, the freetown Christiania, Roskilde (for the famous Roskilde Festival )
Places to avoid:
Weather:
DMI - Danish Meteorological Institut
Budget airlines?:
What to eat and drink: THE DANISH LUNCH The Danish lunch always consists of dark rye bread. You can put almost anything on top of the slice of bread: ham, herring, ham, paté etc but it is the combination of the ham, mayonnaise, onion etc that makes up the "art of smørrebrød". If you are used a three meal course for lunch everyday you better change your habit, the Danish smørrebrød rules.
Cost of living examples:
Renting a 2 bedrooms apartment in an average town: € ???
Personal experience/views
Useful Links
The Ministry of Culture (links to all the institutions, agencies, committees and other sub-headings) http://www.kum.dk/
The international cultural cooperation of the Municipalities http://www.lgdk.dk/
EU Cultural Co-operation http://www.ec.europa.eu/culture http://www.euobserver.com/
The Nordic Cultural Co-operation http://www.norden.org/
The Danish Artists Council (with links to all the artists' organisations etc) http://www.dansk-kunstnerraad.dk/
DCCD - The Danish Center for Culture and Development
Statistics Denmark (Danmarks Statistik) http://www.dst.dk/
For general information of cultural institutions, activities etc. http://www.kuas.dk/
HID - The national society of Danish cultural centres http://asp.hid.dk/omwwwhiduk.asp
Danish Arts Info (information about Danish culture and arts) http://www.danisharts.info/
Dansens Huset (center for contemporary dance) http://www.dansenshus.dk/default.asp?ver=uk
The Danish Theatre Union http://www.dititu.dk/Default.asp?ver=uk
Teater Centrum (information about theatres that perform for young audience) http://www.teatercentrum.dk/english.asp
Suggested reads and books
Images
Comments